Bear with the history lesson for a just a minute -- please.
The Department (county) of Gracias has a town that goes by two names -- Gracias Lempira and Gracias a Dios. Lempira, a Lenca warrior whose name signifies, "Lord of the Mountains" was said to be a terror to settlers and a warrior of note who led a charmed life. He was King of Coquin which later became Gracias a Dios -- "Thanks to god." The One Lempira bill bears his likeness and the ancient ruins of Copán were the inspiration for the color of the note.
It's been a little more than 2.5 years and my travels in Honduras have taken me to every Spanish colonial town in Western Honduras I can find on the map, but each one is special in its' own right whether it's a market or a cute little restaurant or the big cobblestone streets. Nothing pre-fabricated. Nothing built there to create a, "this is what it used to be like here a few hundred years ago so we can get your tourist dollars." This is real. This is life.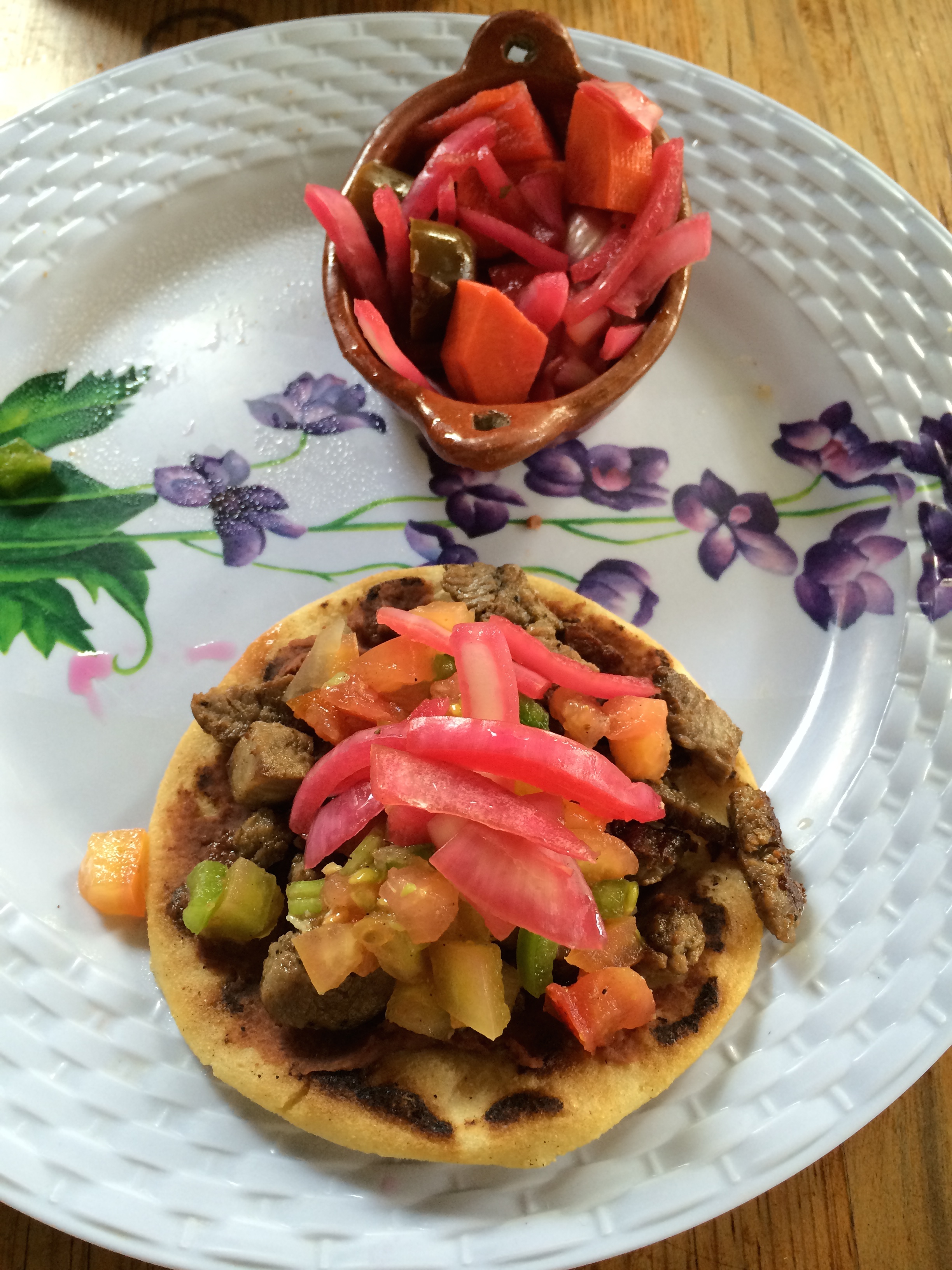 I went with a new friend and colleague to the one town I hadn't seen on my road trip adventures since coming to Honduras and am glad we made the trek. Ok, so it's not a trek exactly. Sitting in the back of a comfortable car while the scenery passes by is pretty cushy and I won't deny I've gotten too used to it.
But hey! I said this is life, didn't I?
We pulled up right next to the local market, anxious to get out and discover. As we peeked into stalls set up at the edge of the market, we decided we were too hungry and set off to find a restaurant. We must have looked very lost as two municipal police approached and offered to help. My mistake is always taking these trips on a Sunday when the towns are very quiet and some places are not open, but they showed us to a humble little place where we sat out back and had a couple of plates of delicious local fare.
The "Mexican Tacos" were not Mexican and were not exactly tacos, but they were delicious and with the "fajitas made a great meal. We were ready for the rest of our adventure which I was looking forward to ending at the produce stalls in the market.
We headed back down the street to the central park and flagged down a couple of tuk-tuks or auto rickshaws or mototaxi or tempo or whatever they are called in Gracias -- one for Mariana and me and one for our gun-toting guards and off we went to see the churches of Gracias. I have no idea why I am enamored by the churches in Honduras, but it seems l am drawn to the architecture.
Our mototaxi driver told us that in 1969 there was an earthquake. So large, so devastating, that the town that once had 14 churches was left with just 4 standing. Inside these remaining churches are pieces of the demolished structures which are propped up against the walls or on the floor if they have not found a permanent home.
Not a single church I have seen in Honduras is the same. I am beginning to think that with all my church photos I should do some research and write a book. Yeah -- Fran FELDMAN becomes an expert on churches. Why not? I haven't run across any synagogues to explore -- yet.
We found a castle that is really a fort -- San Cristóbal -- which looks over Gracias and beyond. The mountain in the distance is the highest point in Honduras at not quite 5000 ft. (as far as I can tell.
What I didn't expect to see was a Langosta Voladora en la Selva. So it's not really a flying lobster and we weren't in the jungle, but i was shocked to see these guys around again. I thought it was supposed to be every 4 years, not every 2 years!
After the walk around the castle we headed home, but not before making stop at a tobacco producer. We noticed the buildings with tobacco drying and decided to pull over.
The people on the finca -- farm -- were very kind and allowed us to walk wherever we wanted. They answered a few questions, we shot a few images and were on our way back to San Pedro once again.
It was another great day in Honduras and I'm glad to have made the trip and that Mariana could join me. It added life to what is usually a very solo adventure when I get in the car and go looking to learn more about the country and the people.